WAUPUN — Due to ongoing pressure from members of the community, the Waupun City Council met to review neglected sources of revenue to the city, including the issue of shared revenue from the State. Attached to the agenda was a resolution urging the State fix the "broken system of funding critical local services."
As part of the Department of Corrections system, which is managed by the State of Wisconsin, municipalities that host DOC facilities receive funding from the State in the form of Municipal Service Payments (MSP). These payments are meant to cover costs for essential local services, such as Police, Fire, and EMS which the DOC facilities would rely on. But the amount of funding municipalities receive to cover these services has decreased significantly over the last twelve years.
"Over the last twenty years state aid for police, fire, and other critical services has been steadily declining in real dollars," City Administrator Kathy Schlieve said. "When adjusted for inflation it's going to look flat but you have to consider that our costs are not flat."
Administrator Schlieve explained how Wisconsin tax trends allowed the State to maintain several years of budget surpluses. For instance, from 2001 to 2019 personal income tax collections rose 74.4% and state sales tax collections increased 57.8%, while shared revenue expenses decreased 12.8% in that time period.
According to Administrator Schlieve, State funding level for county and municipal aid in 2003 was $938.5 million, while it is currently budgeted for $753 million for this year.
However, the State is in compliance with the current legislation which capped MSP payments at $18.6 million. This cap has not increased since the legislation was passed in 2011 and does not account for inflation, so while municipalities may believe that they are owed this funding, the State has been able to ignore it.
In 2022, the State of Wisconsin reimbursed only 38.2% of costs, leaving a gap of $30.2 million in unreimbursed costs.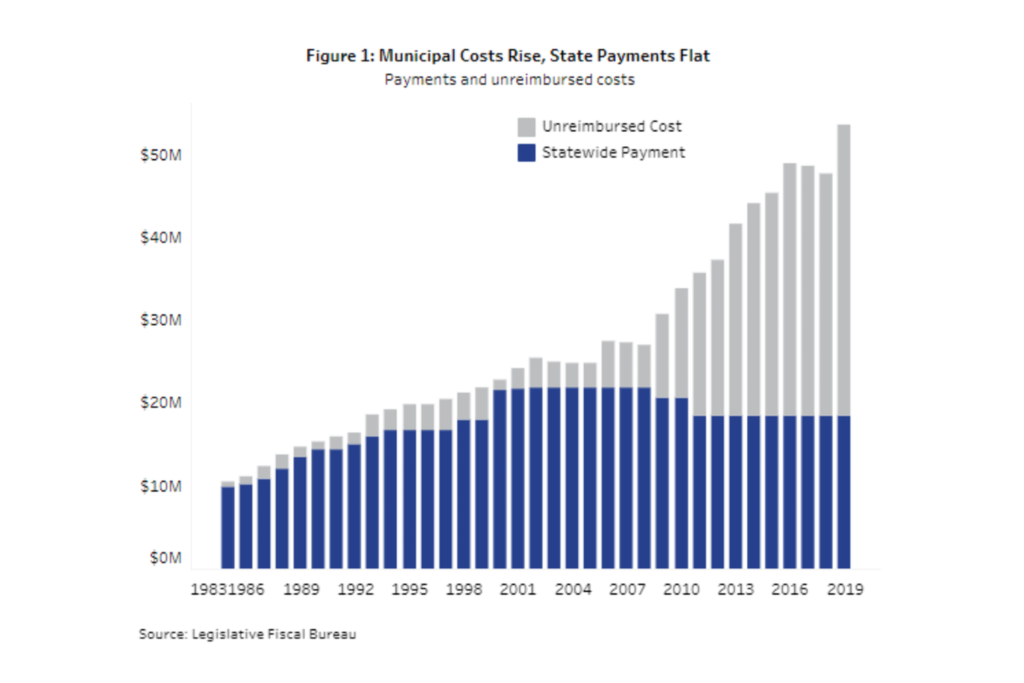 "From the state's perspective, that's not an owed amount to us," Alderman Dan Siebers said. "What the State's saying, with the cost versus payment, 'we've short-paid you but we're not paying you the other $87K.' What I've heard about this, people say 'oh they owe us this,' like we're waiting for a check in the mail, but that's not the case from the State's perspective."
The reduced real-dollar funding from MSP affects not just Waupun, but other communities with DOC facilities, including Portage, Fox Lake, Fond du Lac, Greenbush, Red Granite, and Oshkosh.
The City Council voted unanimously to send the resolution to the State Legislature and the Governor's office. As part of this effort, Mayor Bishop will be hosting a conference with elected representatives to discuss the State of the MSP system at Go-Dutch Solutions on March 9th.